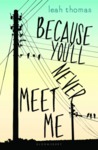 Because You'll Never Meet Me
by
Leah Thomas
My rating:
4 of 5 stars
*SPOILER ALERT*
The book started off slightly annoying as the main characters were borderline arguing with each other. I started to enjoy the book when I was 1/5th into the story.
The author painted a really good description of each of the main character's circumstances. (the allergy and the blindness) Although they were supposed to be "disabled" (in some form), I didn't feel pity for them at all.
With all the hype from one character about their possible brother relationship, I was half expecting that that would come true.. actually disappointed that it did not.
Also wondering why a Janitor would became Moritz's father..
I would have loved it if the author continued on with the story, of when they finally meet. (if they do)
View all my reviews
Buy the book here!
Full Affiliate Disclosure